Jörg Krieger: "I live 50 metres from my office. That's a huge life hack."
The road from PhD to professor is not a peacefully meandering one – in fact, it's full of career holes and family bumps. Every month, a researcher talks about how they navigate life as an academic staff member at Health. Meet Associate Professor Jörg Krieger of the Department of Public Health.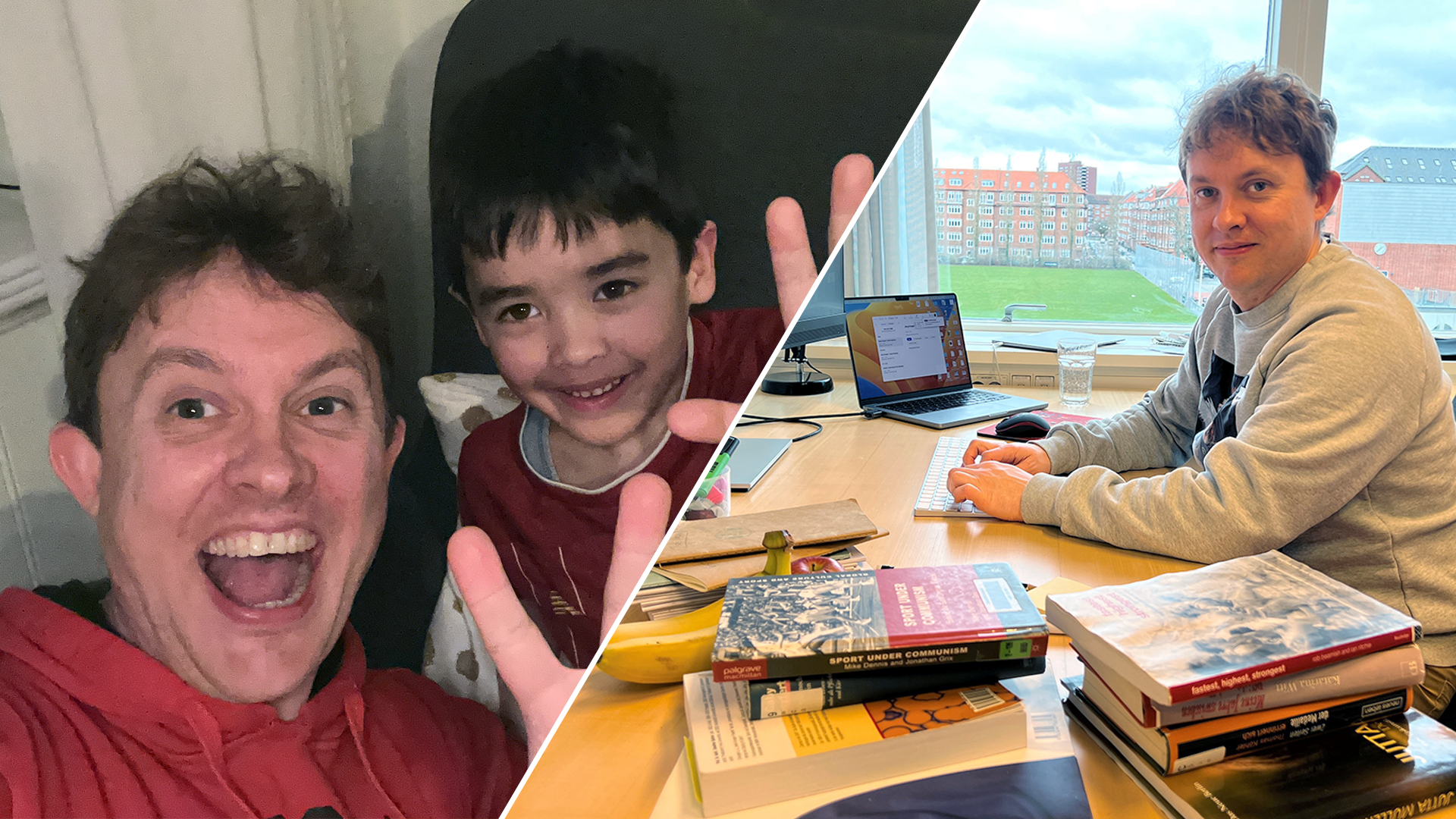 FACT BOX
Name: Jörg Krieger
Age: 37
Title and affiliation: PhD and habilitation from the German Sport University Cologne and Associate Professor in the Research Unit Sport and Body Culture at the Department of Public Health
Research area: Sport history and sport politics
Residence: Lives in an apartment in Aarhus C.
Family: Married to Eunkyung from South Korea. Together they have three children aged 11 weeks, 2 years, and 6 years.
Our families have no roots in academia, so it was not on the cards that I would become an associate professor at a university. It was never a goal that I actively pursued, but in retrospect it appears the logical result of a passion-driven, but atypical career path. In my youth, I engaged in many sports, later organised sports events, was always interested in history and writing, and gained teaching experience in an English school. It prepared me for a career in research and university teaching.
It surprises me how much you can succeed if you follow your heart and not just your head. Including in the academic world. You can actually get a career out of it. I have a huge passion for sport, and I'm curious to understand how sporting cultures and systems have grown over time. It's my hobby and nature which now provide my livelihood.
I have no regrets about saying no to anything because I always say yes. In fact, I say yes far too often. That's my problem, but my passion and interests kick in. However, whilst I'm active as a researcher and lecturer, I don't work around the clock. I couldn't do without the time I spend with my family and as a volunteer football coach for my son.
I try to follow the 'no asshole rule'. I am a positive and optimistic person, with lots of ideas. I prioritise other people and put them first. Team spirit is crucial to me, so I avoid, as far as possible, people with concerns and negativity – that brings stress and is very time consuming. It reflects my research where I point towards cheats, bullies, and tyrants in the history of global sport and the current international sport system.
My research takes place internationally, and there's a lot of travel involved. That's not ideal when you have young children. We have just had child number three, so right now it's very difficult for me to travel. In June, I'll be hosting our annual Sport & Society Conference in Las Vegas, and it requires detailed planning and my family's backing to be able to attend the event.
My Outlook calendar is essential to juggle my many research projects and family life. Between 9 am and 4 pm, I am in the office and fully dedicated to my work. The time before and after is devoted to my wife and children. Everyone agrees on this distribution, and it works for us – until the children are ill, for example, and things become trickier. Still, organisation is key when you need to get family life and career to go together.
I live 50 metres from my office. That's a huge life hack. I have no daily commute and the office feels like an extra room of our apartment. I can go home, eat lunch, and be with my family very easily. On the other hand, I don't have much time in transit to clear my thoughts, but my kids take care of that: as soon as I enter the house the focus is on toys, dolls, and diapers.
We are an international family. That makes for strong bonds, but it also requires cooperation. And compromises. I'm from Germany. My wife is from South Korea. We moved to Aarhus in 2019 because of my work. Our families and our primary support network are far away, so we only have each other. We approach our family as teamwork since we must get it to function between the five of us.
My wife is a crucial factor for my academic success. She backs me up, and she is also the reason I can do research in Aarhus and around the world. In South Korea, there is a long tradition of women being housewives until the children grow up. It is no longer the trend in South Korea, but my wife has decided to be a homemaker for a while, against the trend in her country, and of course that makes our family life – and my career – easier.
Denmark is a fantastic country in which to balance career and family life. Citations and publications are of course important, but compared to many other countries, there is also a focus on quality of life, flexibility, and support for ideas. The Department of Public Health and our research unit provide me with an ideal environment to realise my visions and letting me grow as a researcher, whilst also prioritizing a healthy family life.